News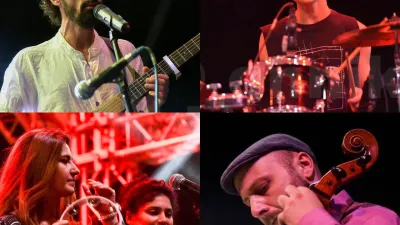 Like a graceful river that both complements and continually redefines its landscape, the music of the Vishup Ensemble meanders through vast, storied swaths of Armenian history, at turns surging and gliding into domains that range from myth, lyric poetry, and metaphysics to gleeful ditties and the ploughman's song.
Vishup was founded in Armenia by flutist, vocalist, and guitarist Arik Grigorian from famous Armenian band "The Bambir" in 2015 when Arik Grigoryan started to work with drummer Eduard Harutyunyan, Hayk Karapetyan and was called "Arik Bambir Project" at first. Then the project moved to Los Angeles in 2016 and new members joined the band, including vocalist and pianist Areni Agbabian, cellist Artyom Manukyan and drummer Vardan Duvendjian. Then it came back to Armenia and other musicians, including Levon Arakelyan, Christin Yeghiazaryan and Amalia Hakobyan joined the group.
The ensemble's repertoire comprises both original material and odes to the art-historical. An intricately calibrated straddling of earthy and ethereal, Vishup's music is driven by the soothing, folk-inflected voice of Arik Grigorian. The singing is deftly woven with understated yet muscular textures of flute, guitar, and drums, making for a lush, wondrous sound. Vishup's original compositions and reinterpretations of classics alike thrive not merely on experimentation per se, but, ultimately, a sense of soaring liberty, of wide-open vistas, where passion — whether fiery or sublime — is given free rein. Vishup, after all, means "dragon" in Armenian.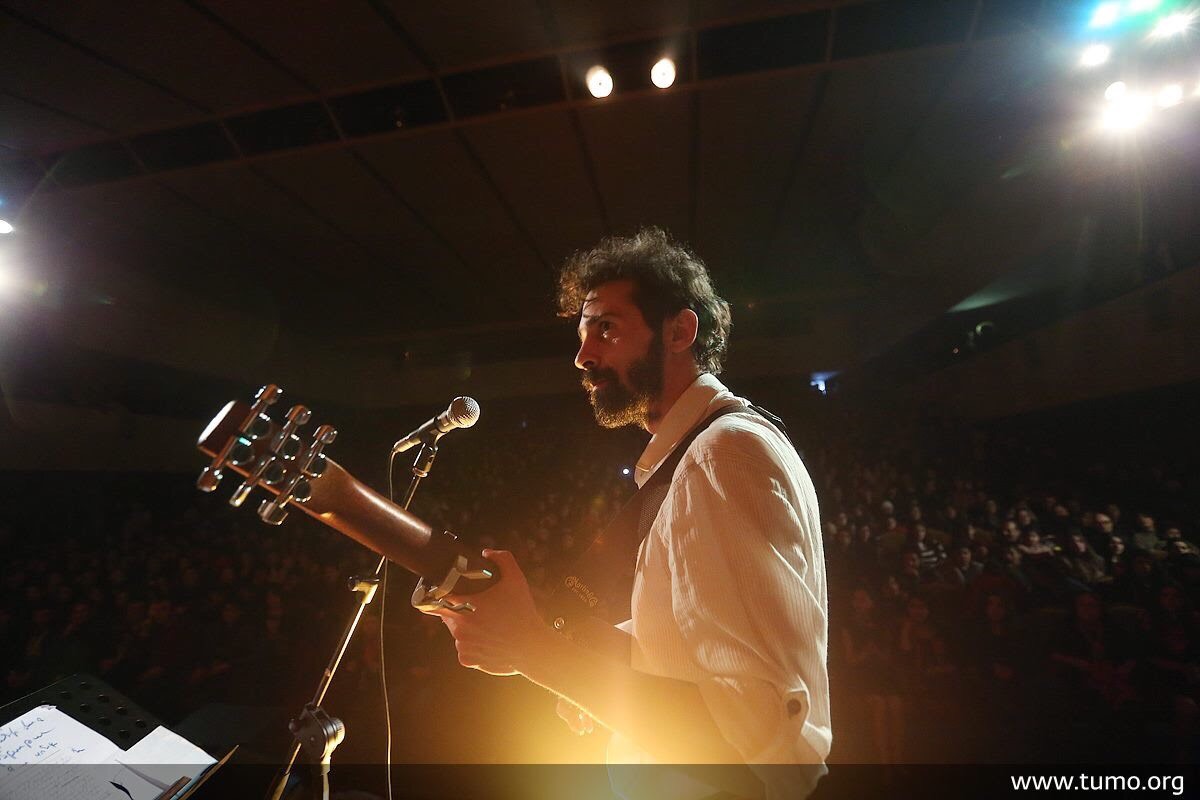 Arik Bambir Grigoryan - classically trained musician as well as teacher and choir conductor, Arik Grigorian is a longtime member of Armenia's acclaimed Bambir Music Collective, in which he plied his crafts as a composer, flutist, and vocalist. Grigorian has also collaborated with a diverse range of musicians including Dietmar Bonnen, Tigran Hamasyan, and Hasmik Harutyunyan. In 2013, Grigorian joined the Tumo Center for Creative Technologies, in Yerevan, Armenia, to launch the Tmbata Youth Orchestra, Tumo's flagship.


During Transkaukazja 2017 Vishup Ensemble will perform with Pako Sarr!
It is our honor to announce that world-famous Natig Rhythm Group will perform on stage of Transkaukazja 2017!
The greatest nagara player to emerge from the Caucasus, Natig Shirinov has revolutionized nagara percussion technique to become Azerbaijan's first rhythm composer, touring the world as part of Alim Qasimov's ensemble from 1999 to 2007, now with the Natig Rhythm Group bringing his creative energy with award winning performances and innovative compositions.
Natig Shirinov was born with rhythm. His numerous contributions to Azerbaijani percussion music have set new musical standards, inspiring new directions in the art. He has revolutionized nagara percussion technique to become Azerbaijan's first rhythm composer. 
In 2001 he founded "Natig Rhythm Group" with five performers. Besides the nagara, he included old Azeri instruments such as zurna, balaban, and tutek (whistle flute) to the group. In 2002 in the search again for new rhythms he learned the tabla at the Council of India in Moscow, and began to synthesize Azerbaijani rhythms with world rhythms.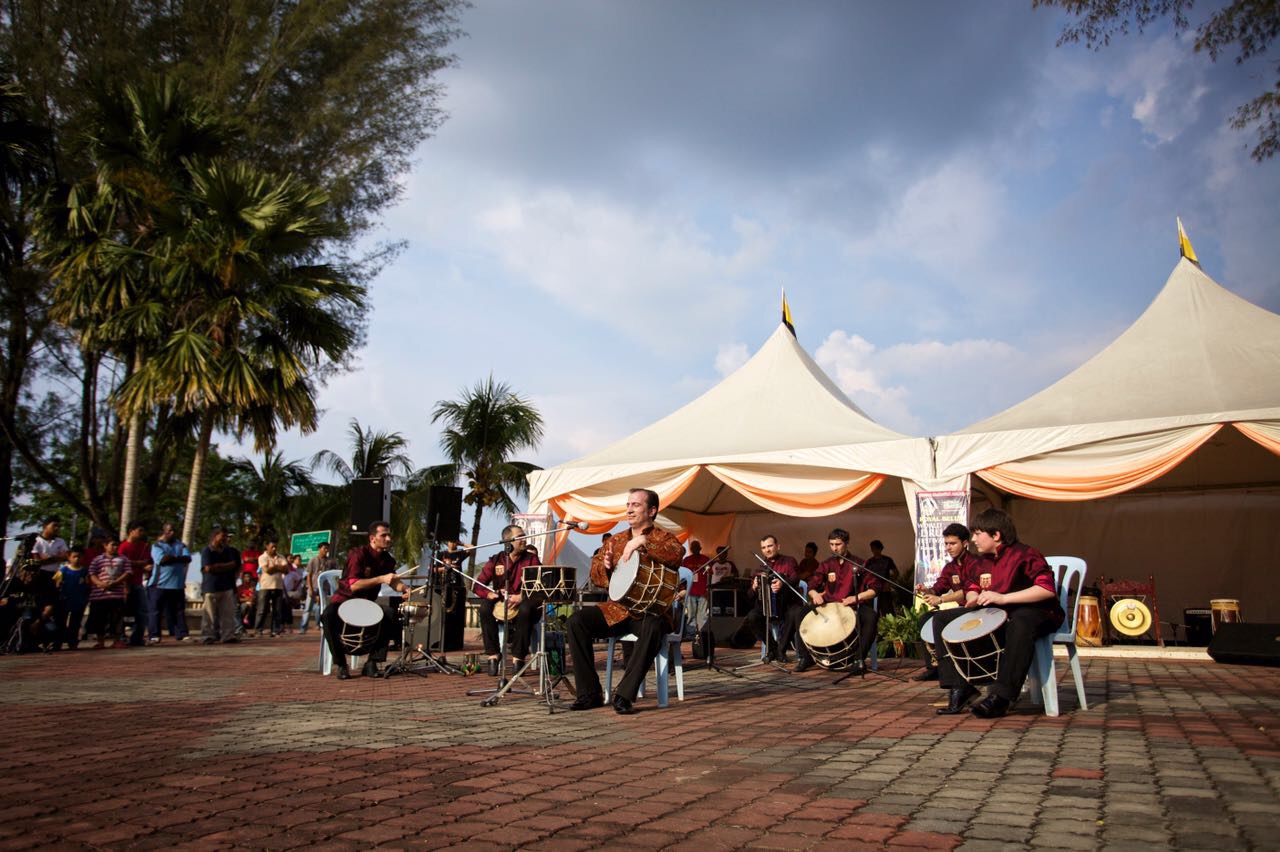 Natig recorded his albums "My World" in 2004 and "My World II" in 2006. He included compositions using different types of nagaras, such as bam, boyuk, dari, dovul, kut, qopuzlu, qosha, zang, and zil on these albums. Within traditional Azerbaijani folk music he introduced new directions and rhythms in his compositions. Natig and Natig Rhythm Group performed in many international festivals (in such countries as Belgium, France, Germany, Malaysia, Morocco, Poland, Romania, Russia, Taiwan) and were numerously awarded. 

Natig Rhythm Group together with the State Dance Ensemble performed at the grand opening of the support concert for The Eurovision Song Contest in Azerbaijan, Turkey, and Serbia in 2008. Natig with Natig Rhythm Group was awarded the Grand Prix Award at the Geumsan World Percussion Performance Art Festival in 2011. And two years in a row Natig Rhythm Group headlined the Royal Belum World Drums Festival (2011/2012) in Malaysia. Natig Rhythm Group was a featured performer for the live televised opening and closing ceremony of the Eurovision Song Contest in 2012 in Azerbaijan.
Natig Rhythm Group was the opening act for world superstar Rihanna at her concert in Baku, Azerbaijan in 2012. In 2012 and 2014 Natig performed and gave master classes at the Montreux Jazz Festival in Switzerland. In 2015 Natig Rhythm Group performed in the opening ceremonies of the first European Games.
During Festival Transkaukazja Natig Rhythm Group will perform with polish group Masala Soundsystem.